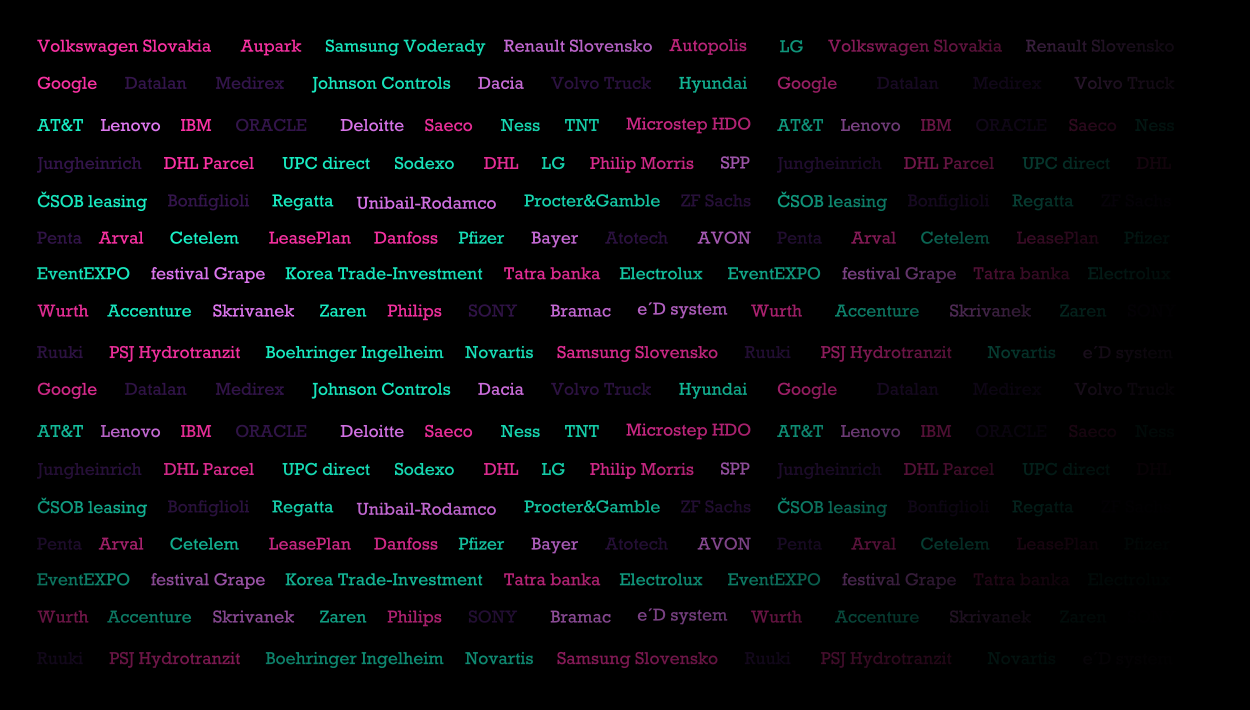 There are not many agencies in Slovakia that have done
,
, and
for as many clients and brands as us. There are more than 100 of them. Let us list them below, starting immodestly with Coca-Cola, and followed by:
Production plants: Volkswagen Slovakia, Samsung Voderady, ZF Sachs, importers Renault Slovensko, Dacia, Volvo truck, Hyundai, multinational companies Google, Accenture, AT&T, Johnson Controls, Lenovo, IBM, ORACLE, KPMG, Deloitte, Saeco, Ness, Jungheinrich, DHL, DHL Parcel, TNT, AVON, UPC direct, Sodexo, LG, Philip Morris, Atotech, Procter&Gamble, Skrivanek, Wurth, Bonfiglioli, Regatta, Unibail-Rodamco, financial institutions Tatra banka, ČSOB leasing, Arval, Cetelem, Wustenrot, LeasePlan, ING, Danfoss, Luxottica, pharmaceutical companies Berlinchemie, Pfizer, GlaxoSmithKline, Boehringer Ingelheim, Novartis, Bayer, electronics Samsung Slovensko, e´D system, Electrolux, Philips, SONY, NOKIA, construction companies Bramac, Ruuki, PSJ Hydrotranzit, food companies Modeléz, Kraft, Nestle, Rajo, Danone, Zott, Wallmark, operators O2, Slovak telekom, Slovak companies Aupark, SPP, BVS, Datalan, Medirex, Microstep HDO, Autopolis, SkyToll, Tempest, Adastra, Slomatec, Slovanet, Cora Geo, CSC, Zaren, Play, EventEXPO, Oftalmologická spoločnosť, BeCool, festival Grape, Penta, Technopol a Svätokatarínske víno and others Korean Embassy, Korea Trade-Investment.
If, by any chance, you are missing for example
, rest assured we have done a few of those as well. For example, for IBM, Deloitte, Volkswagen or PSJ Hydrotranzit.